Card Processing from Start to Finish
Besides you and your customers, several other parties are involved in every card processing transaction.
Cardholder is the authorized user of a credit or debit card.
Merchant is any business entity that is authorized to accept cards for the payment of goods and services.
Merchant Bank or Acquirer is a financial institution that provides card processing services to the merchant.
Credit Card Network or Association is a membership organization of financial institutions that issue payment cards and/or sign merchants to accept such cards for payment of goods and services. There are two Credit Card Associations – Visa's and MasterCard's.
Card Issuer is a financial institution that issues payment cards and contracts with its cardholders for billing and payment of transactions.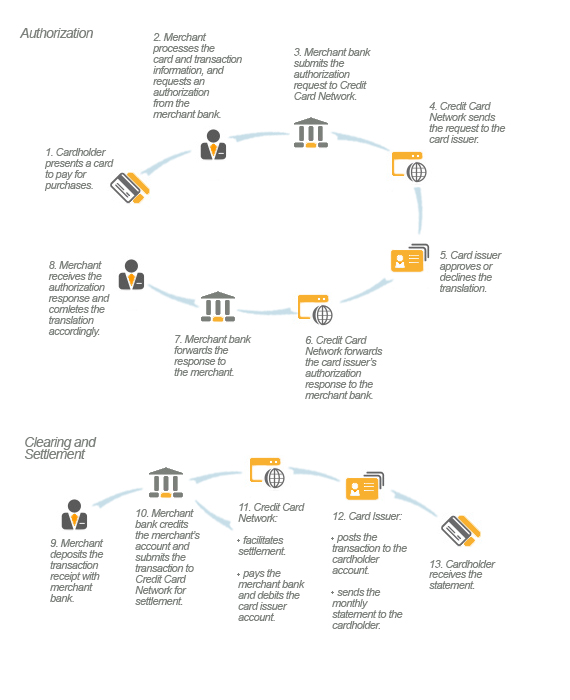 The entire process, from authorization to funding, usually takes about 3 days.
In the event of a chargeback (when there's an error in processing the transaction or the cardholder disputes the transaction), the issuer returns the transaction to the acquirer for resolution. The acquirer then forwards the chargeback to the merchant, who must either accept the chargeback or contest it. For more on chargebacks, visit the Chargeback Management section of our website.
Getting Started
To start processing payment card transactions you need:
A payment processing terminal – a physical device or software. We support all major physical processing terminals and offer the Orbital Virtual Terminal, which is a web-based application that lets you authorize, capture, settle your payments and more directly from your computer.
Merchant account – the service that payment processing companies offer to allow you to accept electronic payments. We provide secure, reliable merchant account services and our processing rates are among the lowest in the industry.
Checking account to receive deposits.
Specific for processing online transactions are the following requirements:
A functioning web site with a valid secure server certification.
Shopping cart – our virtual terminal is compatible with all major shopping carts.
Online payment gateway – the online equivalent of the point of sale (POS) terminal facilitates the transfer of information between your website and your processor or acquiring bank, quickly and securely. Our Orbital Gateway is a proprietary system that securely delivers and encrypts your customers' payment information during electronic transmittal.